How to Become a Real Estate Agent Without a Degree
The real estate sector provides a fulfilling career path for individuals who are passionate about assisting people in finding their ideal homes or investment properties. Having a degree in a field of interest is common among real estate professionals, although it is not a must for employment. This post will examine how to become a real estate agent without a degree.
If you want to know how to become a real estate agent without any experience, check out this article.

Understand State Licensing Requirements
Before looking at how to become a real estate agent without a degree, you must understand the licensing requirements in your state.
Research Your State's Requirements
Real estate agents must be licensed according to the laws of their respective states in the US. Most of the time, acquiring a license does not require a college degree. Instead, you'll need to finish a pre-licensing course, pass a state test, and satisfy additional particular criteria, which can include fingerprints and background checks.
For instance, Texas mandates 180 hours of pre-licensing education but California just requires 135 hours. Visit the website of your state's real estate commission or get in touch with them directly to learn more about the criteria in your particular state.
Age and Residency Requirements
Most states have residency and minimum age requirements in addition to educational requirements for real estate licenses. In general, you must be a legal resident of the United areas and at least 18 years old (19 in some areas). Some states could demand that you live in the state where you intend to operate as a real estate agent. To make sure you fulfill the appropriate standards, it's crucial to thoroughly study these requirements.
Enroll in a Pre-Licensing Course
Next, you'll need to find yourself a course:
Choose an Accredited Course Provider
The next step is to participate in a pre-licensing course after you have an understanding of the licensing requirements in your state.
Getting a real estate license is really easy when you use Colibri's Online Real Estate Course. Their self-paced online learning is available in almost every state. You will learn from active and experience real estate agents, and receive money back if you don't pass first time.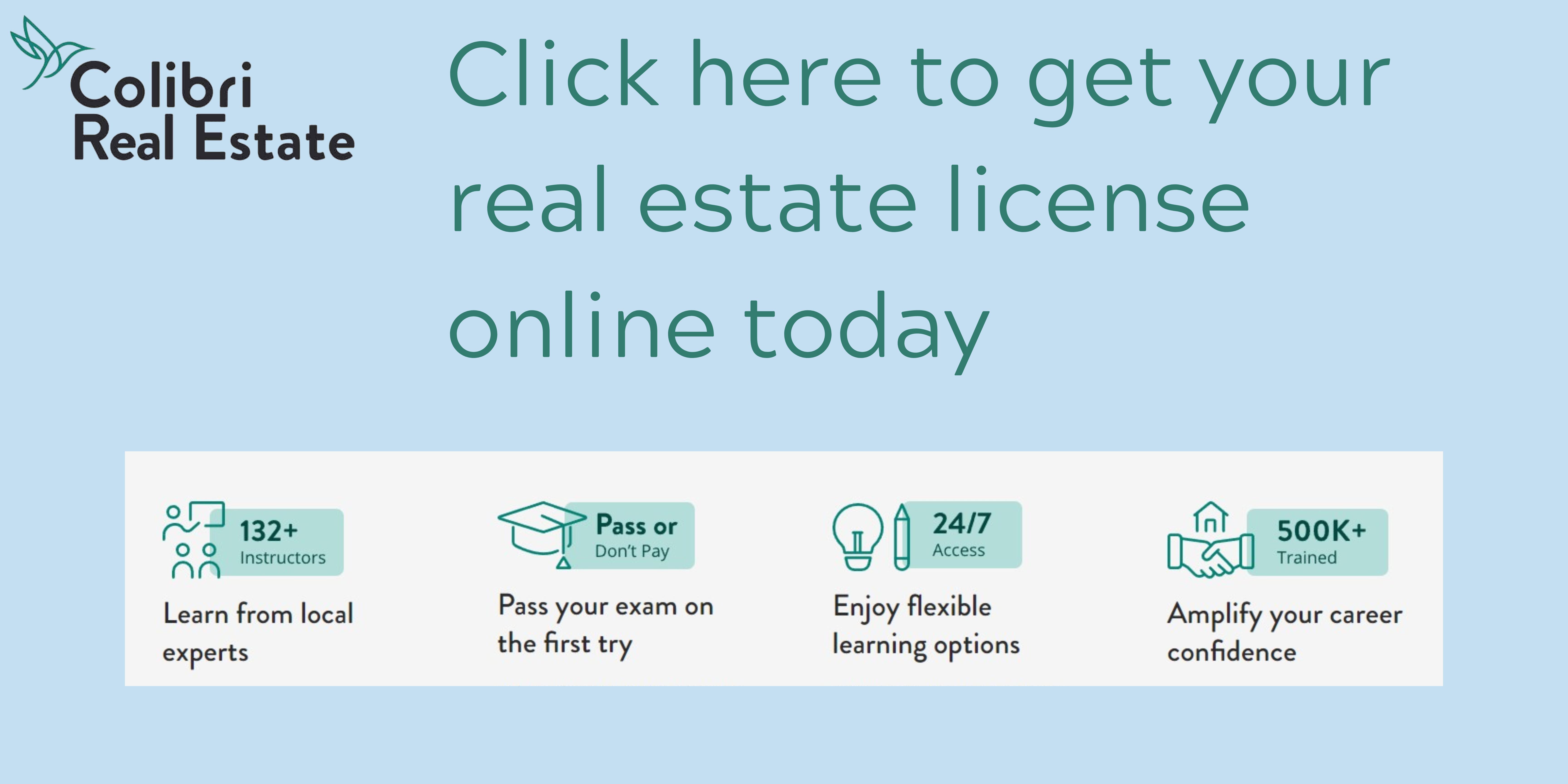 Essential subjects including property management, contracts, ethics, realtor fees, and real estate legislation are all covered in these courses.
These courses are offered by several educational institutions and online resources, enabling you to learn at your own speed and from the convenience of your home.
Complete Your Pre-Licensing Education
Pre-licensing classes can take anywhere between 60 and 180 hours to complete, depending on the criteria of your state. It's essential to invest enough time and effort into reading the assigned readings and comprehending the course content. For the purpose of consolidating your understanding and getting ready for the state test, attending group study sessions or getting advice from highly qualified individuals might be beneficial.
Prepare for and Pass the State Exam
Here are some tips to help you pass your real estate exams!
Utilize Test-Prep Resources
You must take and pass your state's real estate test after finishing your pre-licensing course. The multiple-choice questions on this test often address both federal and state-specific real estate laws, concepts, and practices. Consider taking a test preparation course, using practice tests, or getting advice from qualified real estate experts to improve your chances of success. PrepAgent is a perfect example of a test-prep site; it provides study guides, mock tests, and webinars to assist you in getting ready for your state's exam. Always keep in mind that each state has different minimum passing scores, therefore it's important to investigate the standards in your state.
Register for and Pass the State Exam
You must sign up for the state test as soon as you feel sufficiently prepared. An application must be submitted, an exam fee must be paid, and an appointment to take the test at an approved testing facility must be made. On the day of the exam, be sure to carry all required identification and paperwork.
Spend your time wisely, study every question closely, and use the information you learned in your pre-licensing training throughout the exam. You ought to be prepared to pass the state exam and go to the next stage of becoming a real estate agent without a degree if you put enough effort into your preparation.
Obtain Your Real Estate License
Once you've passed your exams, you'll need to apply for your real estate license.
Submit Your License Application
You can submit an application for your real estate license after completing the state test. The application procedure normally entails submitting an application form, paying a license fee, and providing evidence of passing the state test as well as the pre-licensing training. As part of the licensing procedure, several jurisdictions further demand that you submit to fingerprints and background checks.
Receive Your License
Your real estate license, which permits you to legally work as a real estate agent in your state, will be given to you once your application has been accepted. Remember that in order to keep your license current, you will need to renew it frequently (typically every 2-4 years) and take continuing education classes.
Join a Real Estate Brokerage
This is where it gets exciting!
Research and Choose the Right Brokerage
The next step after getting your license is to sign up with a real estate agency. A brokerage is an office or business where authorized real estate agents are employed under the direction of an authorized real estate broker. Finding a brokerage that provides mentoring, training and support is essential if you're a new agent without a degree since it will help you advance your career and expand your clientele. You might want to choose to specialize in sales or rentals.
Well-known brokerages include RE/MAX, Coldwell Banker, and Keller Williams. Consider aspects like a brokerage's commission structure, reputation and accessibility to continuous training and assistance when assessing potential employees.
Complete Onboarding and Training
You must go through the brokerage's onboarding procedure after making your choice, which may involve extra training and orientation sessions. This is a great chance to get familiar with the systems, resources, and procedures used by the brokerage while also starting building relationships with your new co-workers.
Develop Your Real Estate Skills and Network
Once you've landed a job, here are some tips to help you become more established in the real estate agent industry.
Attend Industry Events and Workshops
If you don't have a degree, being a successful real estate agent involves ongoing education and networking. Spend time improving your talents by going to industry events, taking part in seminars, and getting advice from experienced counterparts. You may remain up to speed on industry trends, governmental changes, and emerging technology that may affect your company by taking advantage of these chances.
Join Local Real Estate Associations
To network with other professionals and remain informed on market trends, think about joining regional real estate associations and networking groups. These groups frequently hold conferences, workshops, and other events where you may meet people in the business and broaden your professional network. You could also join the National Association of Realtors.
Establish Your Online Presence
You must effectively promote yourself as an experienced and dependable real estate agent if you want to increase your clientele. Publish your listings, client endorsements, and contact details on a professional website. Connect with potential clients and share informative real estate material by using social media networks like LinkedIn, Facebook and Instagram.
You'll also want to be able to do this in the most productive way possible, so make sure to get yourself a real estate agent laptop.
Implement Offline Marketing Tactics
Flyer distribution, networking at local events and open houses are examples of offline marketing techniques. These tactics can raise your profile in your local market and help you connect with potential customers who may not be as active online.
Research and Pursue Relevant Designations
While a college education is not a must for success in the real estate sector, obtaining professional certifications can help you stand out from the crowd and highlight your expertise in the field. These certifications include the Accredited Buyer's Representative (ABR) designation from the Real Estate Buyer's Agent Council and the Certified Residential Specialist (CRS) designation provided by the Residential Real Estate Council. In order to pursue these credentials, you often need to finish further coursework and meet experience criteria.
Showcase Your Designations in Your Marketing
Showcase your professional credentials in your marketing materials, website, and social media accounts as soon as you obtain them. You may establish yourself as an authority in your field and draw clients that respect your particular field of expertise by emphasizing your specific knowledge and abilities.
To conclude, the appropriate mix of commitment, knowledge, and hard effort makes being a real estate agent without a degree is possible. You may have a prosperous career in the real estate sector by being aware of your state's license requirements, completing the required training, and putting a strong emphasis on networking, ongoing education, and efficient marketing techniques.
If you manage to do all of this successfully, your clients will be so happy with your service they may buy you a gift!